We can't imagine anything more fun or satisfying than doing what we love to do every day (and getting paid for it!). We are passionate about meeting and helping people from all around the world through our language services, and our love of languages is what fuels our passion. Our combination of the best people and language technology helps our clients succeed in the competitive global marketplace.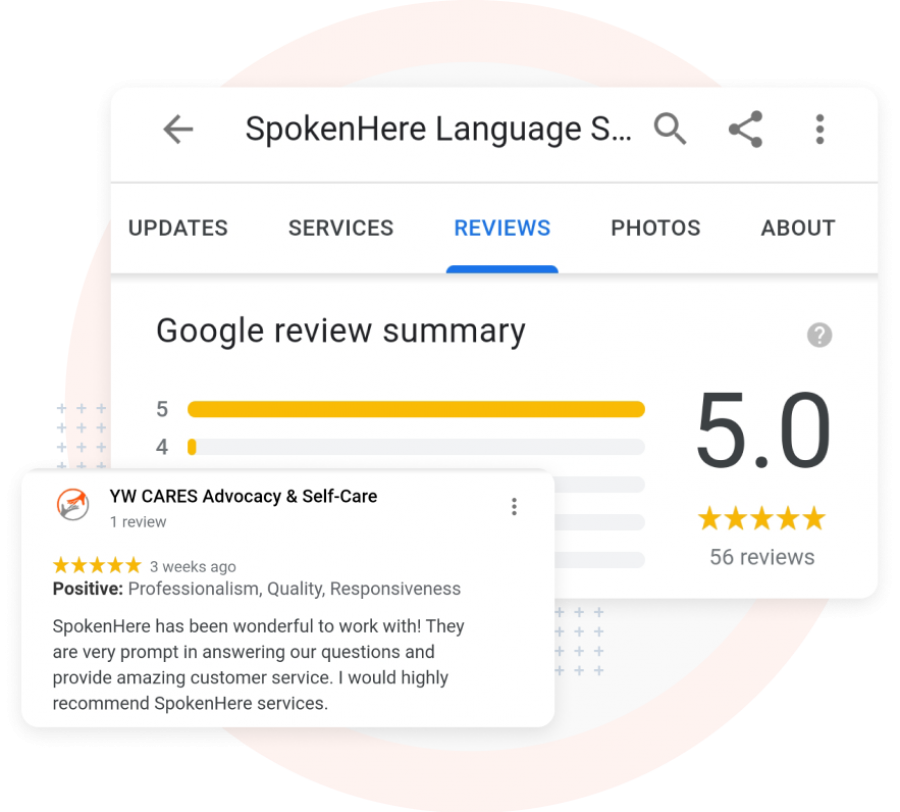 We believe in the power of great relationships.
Our Vision
We envision a world where differences in language do not keep people from building deep and meaningful relationships with one another.
Our Mission
We apply our passion for and expertise in foreign languages to help your business build better relationships with the people it values most.
People First
Relationships enrich our lives. They make what we do worthwhile. If we do the right things to grow and nurture relationships with our clients, our contractors and our team, business will take care of itself.
Authenticity Matters
Being genuine in today's digital world is more valued than ever before. Down-to-earth, real people are who we want to build relationships with, because that is who we are at SpokenHere.
WOW with Excellence
We work to deliver a WOW experience to our clients, our vendors and each other by striving for excellence in communication, execution and ongoing support.
Integrity Above All
Openness and honesty form the foundation for everything we do. By being truthful about our pricing, capabilities and commitments, we treat others the way we want to be treated.
Continual Growth & Learning
Always being open to listening and learning offers us the opportunity to grow as individuals and as a team, which allows us to strengthen our skills and relationships in language services.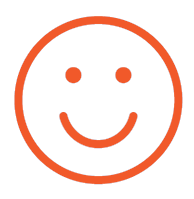 Happiness
We have fun, laugh at stuff, don't take ourselves too seriously. These things make us better, healthier, more pleasant and more enjoyable for everybody else!
Our Promise
We guarantee you will be 100% completely satisfied with our work and our team, or we'll fix it.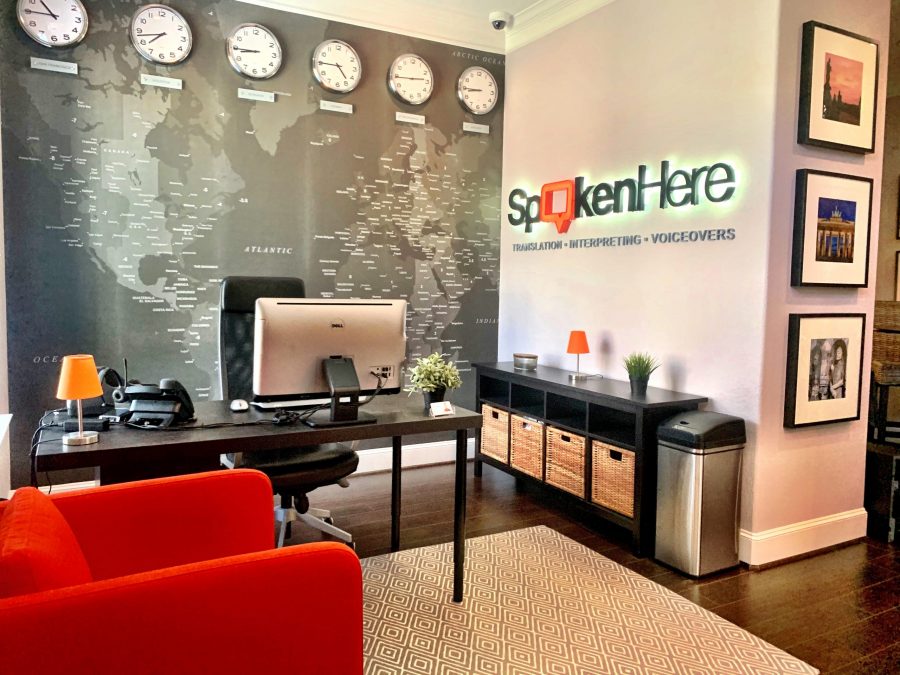 Born Out of Love
SpokenHere was born out of an intense love of foreign languages. When our Founder and CEO, Bobby Lahiere, participated in a student exchange to Vienna, Austria across two summers in the mid-1980's, after finishing his second year studying German at his high school, a flame of passion for international travel and languages was ignited that still burns brightly to this day. Upon graduating from college in 1992, Bobby continued pursuing his passion by getting into the language services business. After 19 years of a largely successful partnership at another language service provider, Bobby founded SpokenHere in January 2011. The rest is history.
Today more than 2000 clients on six continents rely on our professional written and spoken foreign language services. We offer support in more than 200 languages and dialects.
ISO 9001 Certified
We are proud to be awarded ISO 9001 certification, an internationally recognized standard that ensures our services meet the needs of our clients through an effective quality management system.
It's a Milestone Birthday!
Today we celebrate helping clients build better relationships for 10 years!
ASL now offered 24/7/365
Hearing impaired clients can now get an American Sign Language (ASL) interpreter on our ConnectNow™ platform any time of the day.
Video Conferencing Launches
Video conferencing is added to our remote interpreting platform, allowing our clients to connect with multiple parties using a secure video option.
New Name, Same Great Taste!
SpokenHere Communications changes its name to SpokenHere Language Services, because, well, it just sounds better!
American Sign Language Added
American Sign Language (ASL) added to SpokenHere's remote interpreting platform, giving hearing impaired clients the ability to communicate with others via video.
ConnectNow™ Launched
Our new remote interpreting portal is launched, giving clients more control, real-time call logs, and custom reports and allowing us to expand our service by providing video remote interpreting (VRI).
Compass™ Launched
Our secure online portal, Compass, is launched, making it easier for our clients to request quotes, view their translation projects and manage their account.
New Headquarters Opens
SpokenHere opens new headquarters, complete with state-of-the-art professional voiceover recording studio.
Sunrise at SpokenHere!
SpokenHere is founded in Houston, TX to deliver high quality translaton, interpreting and voiceovers with personal service and a smile to clients around the globe!
We
love

our people.

In a world full of automation, we feel our people make a world of difference. We believe in being honest and authentic while delivering caring, personal service. Oh, did we mention we like to have fun too?