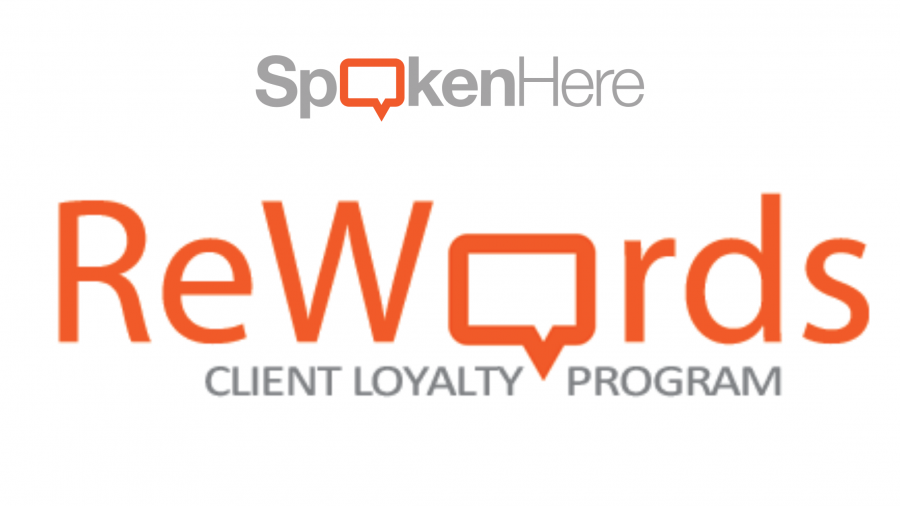 We've always viewed our clients as the best part of SpokenHere. To honor them, we have a special announcement about our new client loyalty program that we call, wait for it, ReWords™!
We view our relationship with each client as a partnership, in which our passion for languages help their businesses grow with their multilingual customers.
The goal of our ReWords™ program is to reward client loyalty, and lower their translation project spending over time with VIP discounts. As needs grow and more translation projects are completed, clients unlock increasing discount levels.
One of our favorite parts of the ReWords™ program is how easy it is!
As a client earns these discounts, they are automatically applied to the next project. There is no approval process or waiting period. We have not created a separate sign up for rewards, and clients don't need to remember and claim a discount in the future.  This program is available for all translation projects and all clients, new and old!
"We have always prided ourselves on our quality, responsiveness and personal service. Now we want to give even more back to our valued clients by rewarding their loyalty with even better pricing." – SpokenHere CEO, Bobby Lahiere
SpokenHere Interpretation and Translation Services
At SpokenHere, we envision a world where differences in language do not keep people from building deep and meaningful relationships with one another. We apply our expertise in foreign language services to help your business build better relationships with the people it values most. More than 2,000 clients on six continents rely on our professional written and spoken foreign language services. We offer support in more than 200 languages and dialects.
Contact Information for SpokenHere
281-607-2505
hello@spoken-here.com