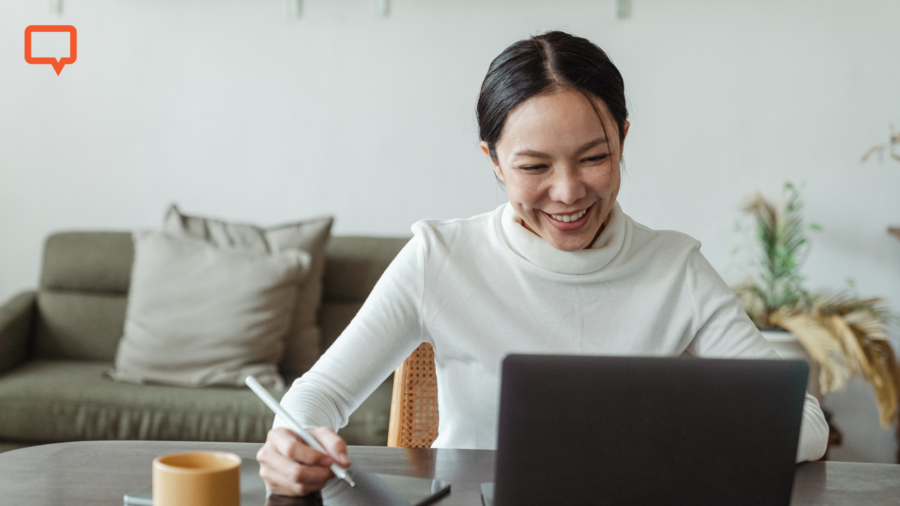 Articulate Storyline is one of the world's leading learning content authoring tools. With over 80 million learners in more than 150 countries, Articulate Storyline has a wide global reach. In addition to making it easy to develop content for today's learner, the software also provides the developer with tools to facilitate the translation of the course content into other languages.
You don't need a study to know that learning comprehension increases greatly when you can learn in your native language. A lot of time, planning and effort is put into creating great content and its presentation. However, for many learners who may understand some English but do not speak or understand it like a native, a lot can be lost in translation. Storyline's built in functionality can easily output your content for your professional translator in a way that preserves the formatting and makes it easy to build the course in the target language you have chosen.
Translating Your Content
To be clear, Storyline does not translate your content. You still need to work with a professional translator who understands the subject matter and has experience in translating Storyline courses. Where Storyline does help immensely is with its export for translation feature.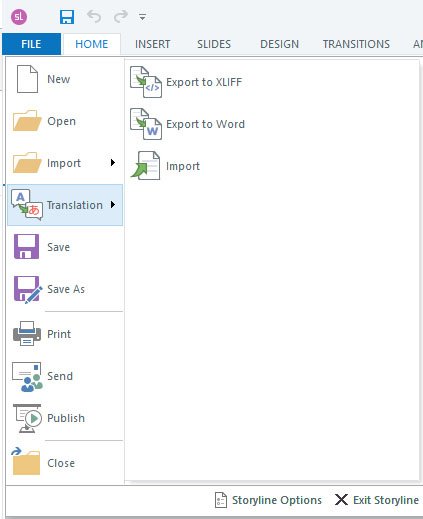 With just a couple of clicks, you can create for your translator a usable file that is compatible with most translation memory tools. The multi-column format preserves all the important formatting from the Storyline course. Bold text, text with different colors and font sizes, links, etc. are all kept in the exported file and all the translator has to do is translate the content like they would any other file.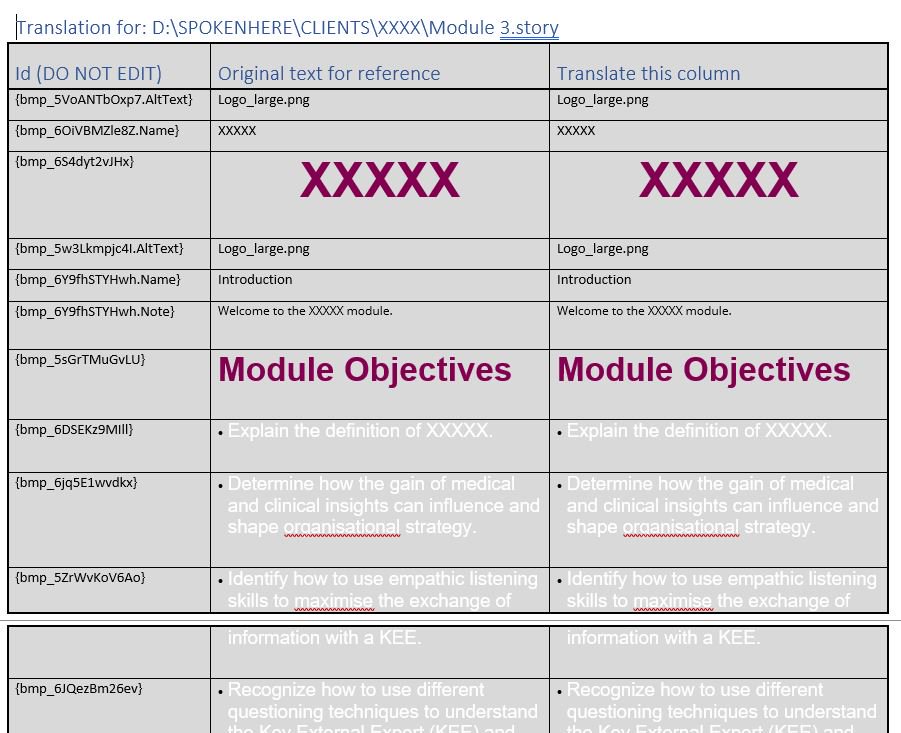 Once the translation is complete, you or your developer simply imports the translated file back into your Storyline (.story) file and, voilà, your translated Storyline file is now ready for further processing!
After the translated text has been imported, you will need to make sure the text fits and displays well in the resulting translated .story file. Often text expands when it is translated into other languages (for example, when translating from English into Spanish, you typically end up with 15-20% more text than in your original), so care must be taken to make sure the course layout is adjusted to compensate.
Translating Your Audio Files
If your Storyline course has an audio component, the script will also need to be recorded in the target language, and the new audio files will need to be imported. Here, too, adjustments will need to be made so that the foreign language audio files are in synch with the on screen text and elements of the course.
Once all translated text and audio are added and adjusted, a final quality check by a native speaker of the target language can catch anything that may need to be tweaked prior to publishing the new course. A professional language service provider with experience in translating e-learning courses can be an invaluable asset and save you a lot of time and money in the process.