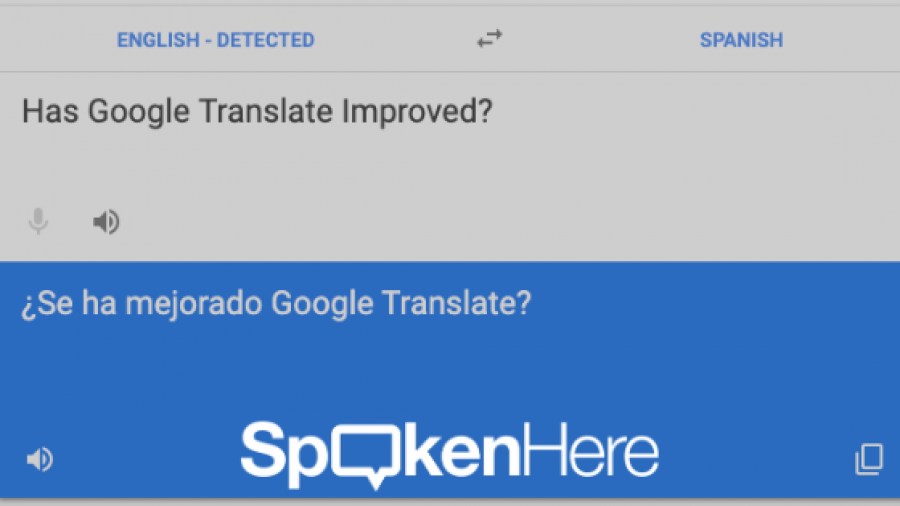 You may already know that Google Translate is a free service that, according to Google, "instantly translates words, phrases, and web pages between English and over 100 other languages." For a variety of reasons, SpokenHere has been less than a huge fan of the Google Translate service over the years. You can read more about our views on Google Translate in "Why is Google Translate so bad?" and "9 Reasons NOT to Use Google for Website Translation" blogs written in 2017. You might be thinking, "So much has changed since 2017! Surely, Google Translate has made some changes and improved the service." Well, let's take a look.
To see how much Google Translate has improved, we begin with the issues outlined in our "Why is Google Translate so Bad?" post. In summary, the primary issues that we covered there are:
It relies on probability, not accuracy
It is culturally insensitive
The translations are not proofread by reputable translators
There is zero accountability
It does not format
Now, let's evaluate if any updates have been made that speak to the concerns above.
It Relies on Probability, Not Accuracy
According to an article by the Independent, Google Translate still works off of the basic premise of probability. While translations through their neural machine translation programming should be ever-improving due to the machine's "deep learning" capabilities, it is still not comparable to a human translator.
It is Culturally Insensitive
In terms of cultural sensitivity, Google has made some modest updates to their Translate platform. One of the biggest changes that we found was concerning gender bias. Google Translate will now provide both masculine and feminine versions of words that were not previously provided. For example, if an English speaker typed "doctor" looking for a Spanish translation, Google Translate would offer "doctor" as the only translation option. But, "doctor" is only the masculine version of the word in Spanish, "doctora" is the feminine version. Alternatively, if an English speaker were looking for the word "nurse" in Spanish, Google Translate would have previously shown "enfermera", which is the feminine version of "nurse" and not "enfermero", the masculine version. According to Google, they are working toward providing all available gendered options when translating across languages (masculine, feminine, and neutral).
The Translations are Not Proofread by Reputable Translators
This problem still exists with Google Translate. In fact, this article from the Atlantic pinpoints exactly how machine translation, even if capable of "deep learning", cannot compare to human understanding of context and the purpose of communication. Decoding a language simply is not the same as understanding the purpose of a statement and using that purpose to carry a message. Think about how a joke or old saying in one language does not always make sense in another language if it were translated word for word.
There is Zero Accountability
Similar to the fact that Google's translations are not proofread by real, human translators, there is still no accountability for incorrect translations. There is no one to turn to if a bad translation costs your business a major deal or sale. When working with a translation and interpretation company, you know that your translator is a human who is capable of understanding the importance of context and purpose in communication. You can also hold this person accountable by reporting back to their manager or supervisor.
It Does Not Format
This flaw persists. Long strings of text might even appear to have incorrectly capitalized letters and awkwardly worded phrases that do not look or sound professional. You have probably spent quite a bit of time ensuring that emails, letterheads, business cards, etc. look professional and reflect your brand. A poor copy and paste translation can ruin all of that hard work!
What can we Expect for 2020?
Google Translate rolled out a map integration at the end of 2019. This allows people to communicate more easily when traveling in a country where they do not know the language. It offers for the Map application to speak a location's address and name in the local language. Google also states that they will make the Translate application more easily accessible through Maps in case you need to have a deeper conversation.
While Google Translate has its place and purpose (such as understanding the comment on your Facebook post in another language), it is definitely not suitable for a professional company looking to make the best impression on their clients and customers. SpokenHere provides accurate, reliable human translation and interpretation services for small, midsize, and large companies that serve a variety of industries. With us, you get a high-quality translation from professionals who really know your subject matter and language.