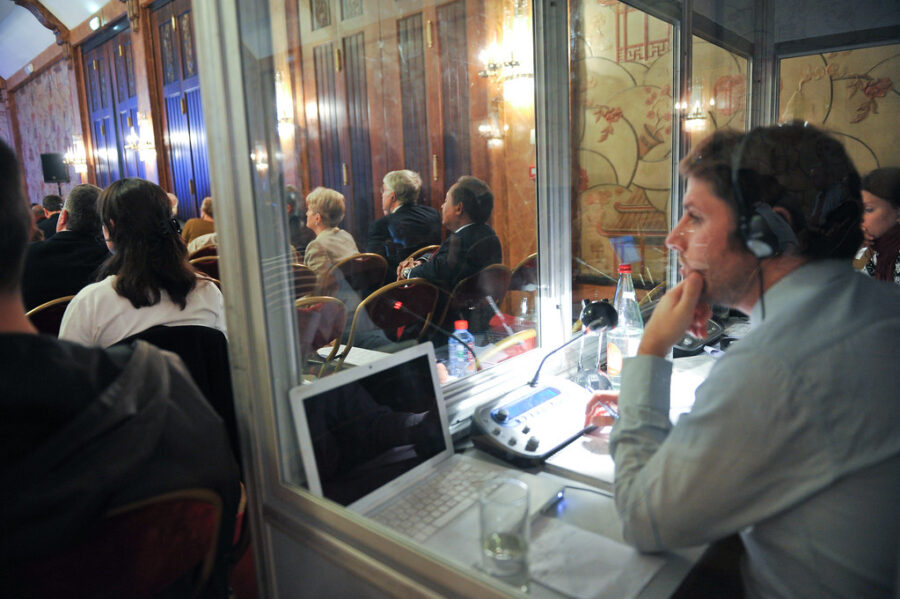 From employee trainings to conferences, here are the key benefits of simultaneous interpreting
You may be familiar with interpreting in general, but wonder: what is simultaneous interpretation?
Simultaneous interpretation is one of the most challenging forms of interpreting, but also one of the most commonly used. In fact, in many contexts (e.g. UN conferences) simultaneous interpreting is used exclusively. This mode of interpretation involves the interpreter interpreting what the speaker says at the same time that the speaker is talking.
The goal of simultaneous interpreting is for there to be only a few seconds of delay between the speaker and the interpreter. This form is popular because the audience can receive the speaker's message in real time without delays or forced pauses. By contrast, a consecutive interpreter will take note of the speaker's speech, and then be given a moment to relay the interpreted speech to the audience.
Unsurprisingly, simultaneous interpretation is much more difficult for the interpreter. The interpreter needs full mastery of both languages, and an ability to immediately contextualize the speech for their audiences' culture. But in spite of the challenges, simultaneous interpretation comes with several major advantages, as you'll see below.
The Benefits of Simultaneous Interpretation
The major benefit of simultaneous interpretation is that it is faster, smoother, and more efficient. By allowing quick delivery between the source language and target language, it helps a meeting progress at a reasonable pace. In fact, simultaneous interpretation (when done correctly) can make a multilingual conference flow as efficiently as if everyone spoke the same language.
Simultaneous interpretation usually requires simultaneous interpreting equipment for both the interpreter and the audience. The interpreter is usually in a booth so that they do not disturb the presenter or audience members. They also have a microphone and transmitter that can connect wirelessly to headphones worn by the audience members that need interpretation. The use of these devices allows for an unlimited number of participants to hear the interpreter, while also enabling several languages to be interpreted at once. The participants will simply choose the channel that transmits the language they need.
Overall, the core benefit of simultaneous interpretation is that it is much more accurate and maintains the flow of the presentation.
The Challenges
In spite of its benefits, simultaneous interpretation is not without its challenges and drawbacks.
Increased coordination and resources: Simultaneous interpreting demands high concentration from advanced interpreters. Due to the intensity of simultaneous interpreting, it usually requires two interpreters per target language. Extended meetings and conferences may even require more than two. Each one interprets for 20-30 minutes and then takes a 10-20 minute break. This helps the interpreter maintain their alertness and interpretation quality.
In certain situations, it can also require special hardware, including:
conference headsets
soundproof booths
wiring
video equipment in some settings
Limited Interaction: While consecutive interpretation may facilitate more back-and-forth dialogue, simultaneous interpretation is less interactive. This makes it optimal only for specific types of meetings with less two-way conversation.
As you can see, simultaneous interpretation is not suited for every context, so it's important to partner with a language services provider that will carefully consider your needs before recommending the right interpreting format for your unique criteria.
The Skills Needed for Simultaneous Interpreting
Simultaneous interpretation is widely considered the most demanding mode of interpretation. It's not difficult to see why! The skills needed for simultaneous interpreting include:
above average fluency in (at least) two languages
quick improvisation
mental stamina for long periods of intense concentration
thorough knowledge of cultural contexts
Even if someone is a skilled interpreter, they may not be suited for the fast-paced, non-stop task of simultaneous interpreting. That's why it's important to choose a professional interpreter carefully, and to make sure the service provider that you employ is up to the task.
Want to see the intricacies of simultaneous interpreting in action? Check out the video example below!
The Best Uses for Simultaneous Interpretation
Simultaneous interpretation is ideal for meetings where there are numerous multilingual participants, especially when there are a small number of primary presenters/speakers. Some of the most common contexts for simultaneous interpretation are:
Courtrooms (like in the video above)
Press conferences
Conventions
Business meetings
Lectures and presentations
Training sessions & workshops
Simultaneous interpretation has quickly become the most in-demand form of interpretation for international business. The efficiency and accuracy ensure that multilingual participants in important meetings do not misunderstand the proceedings.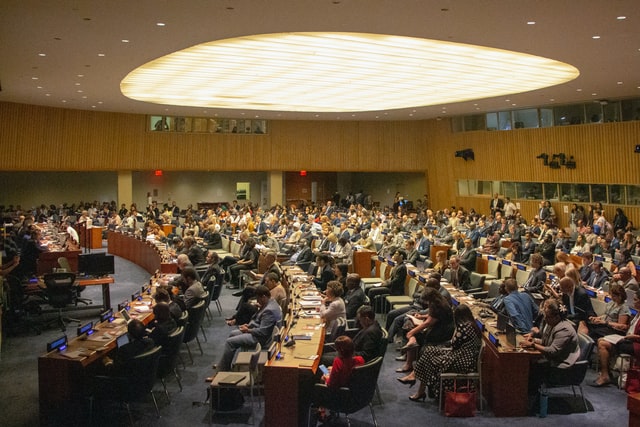 SpokenHere Clients Use Simultaneous Interpretation to Grow & Improve Their Businesses!
Many of our clients from a variety of industries have used our remote simultaneous interpretation services to facilitate countless multilingual meetings and conferences. A few of the clients we've helped with simultaneous interpretation include:
1. The Alliance for Early Success is a national nonprofit that works with early childhood policy advocates at the state level to ensure that every child, from birth through eight years old, has an equal opportunity to learn, grow, and succeed.
The Alliance uses remote simultaneous interpreting for their webinars that provide advocates, educational organizations, educators, and parents with the best practices and latest research relevant to educating children. Additionally, they use on-site simultaneous interpreting (with simultaneous equipment) at their yearly conference.
2. Avance-Austin is a national non-profit organization that meets hard to reach, low-income families where they are in order to liberate them from the cycle of poverty in a family-oriented, non-judgmental environment. Avance utilizes remote simultaneous interpreting services during various webinars aimed at helping educate and support parents and their children.
3. Sphera is the leading provider of ESG performance, Operational Risk Management, and Product Stewardship. Sphera's experts work with organizations around the world to help them surface, manage, and mitigate risks in these areas. Sphera uses remote simultaneous interpreters to assist them when meeting with potential clients whose primary language is something other than English and to provide seamless training to their clients and their clients' employees -sometimes in several different languages at one time!
Is Simultaneous Interpretation The Right Fit For Your Organization?
Now that you're familiar with the benefits of simultaneous interpretation, you can determine if this form of interpretation is the right fit for your organization. When it comes to multilingual meetings, conferences, and training presentations, it's especially critical to have capable interpreters providing simultaneous interpreting to each party involved.
SpokenHere's experienced and highly-skilled team of interpreters are prepared for the task. In fact, we speak over 250 languages fluently! If you're ready to invest in simultaneous interpretation for your organization, or if you're simply looking for more answers, don't hesitate to get in touch with us to learn more.